Wealth Management
Shaw and Partners provides tailored wealth management services to help clients manage and grow their wealth. Shaw and Partners doesn't dictate to clients. We listen - then act according to your needs.
Using the latest research and technology tools, our advisers can work with you to develop an investment strategy which takes into account all of your circumstances, goals and aspirations. We'll assess that strategy to ensure it can leave you in good stead irrespective of market conditions, and not just in the good times.
An extensive team
Shaw and Partners has invested heavily in its advisory business. Over the last three years, we have expanded our services and recruited the best advisers to provide bespoke solutions for our clients.
Privately Owned
Importantly, Shaw and Partners is owned by advisers and staff, not by a major financial institution. Our business model entrenches high compliance standards and minimises conflicts of interest.
Our unrivalled emphasis on honour and integrity underpins our long-lasting partnerships with clients and very high levels of client satisfaction. Shaw and Partners retains its clients when other firms often lose them.
Wide breadth of services
We offer a complete range of investment solutions and advise across the following asset classes and areas to produce personalised solutions, whatever your stage of life.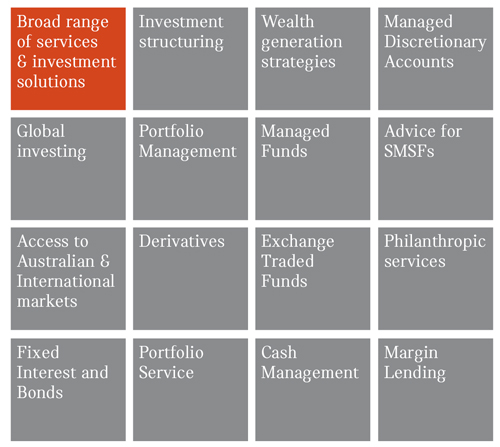 Tailored to you
Shaw and Partners works hard to understand your needs and goals to determine the most suitable investment strategy for you. We seek your input, test the robustness of your plan in meeting your goals, monitor its progress and keep you fully informed of outcomes.
We deliver only bespoke strategies that target your needs and reflect your own values, rather than your adviser's.*
* Shaw and Partners offers 'personal advice'. Not all clients require this and, depending on the level of service you require, you may receive 'general advice' or 'no advice'