Shaw and Partners announced as the winner of the Australian Fixed Interest category at the 2023 IMAP Managed Account Awards.
Read article here.
Shaw Managed Accounts
Shaw Managed Accounts are a sophisticated investment and reporting platform incorporating advanced features to assist in the management of your overall investment strategy and portfolio. 
Shaw Managed Accounts are established and offered within the registered managed investment scheme known as the Separately Managed Accounts. Each investor has a separate "account" to which their investments are allocated.  Your account can be constructed by using a range of available investment strategies (referred to as Model Portfolios) that you can select from the investment menu together, with your Shaw and Partners adviser.
Once you decide which Model Portfolios are best suited to your investment needs and objectives, Shaw and Partners will purchase securities to be included in your account so that it reflects the Model Portfolio, or a combination of Model Portfolios. The Model Portfolios are managed in a disciplined and consistent manner; overseen by a dedicated team of investment professionals with many years of experience in securities markets.

With Shaw Managed Accounts, not only are you the beneficial owner of the portfolio (and shares), you will also enjoy the ownership benefits (such as dividends and franking credits) and have the ability to see the exact make up and market value of the portfolio at any time, via our online service.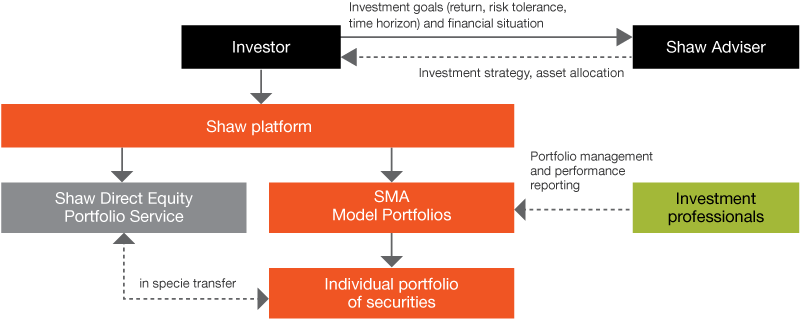 Shaw Managed Accounts are positioned between Individually Managed Portfolios and Managed Funds.  They offer increased levels of control and transparency, agility and tax optimisation.